4th of July Diet Splurge or Keep it in Control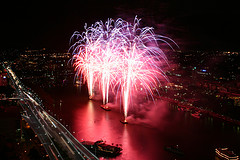 It's a national holiday, you're eating healthy, and working out. What do you do when Independence Day here in the United States is often celebrated by going to the beach/state park, barbecuing up some delicious food, and watching fireworks at night? You have two options. You can either take today as a splurge/cheat day or you can keep your inner desires at bay. Either way, you're going to need to get over it tomorrow and continue on your regular healthy habits. Today is an anomaly to most folks. It's a day of celebration, so I can see why some people are not sure how to handle it when it comes to the eating part.
You should probably do your workout routine, that I definitely suggest. Maybe even kick it up a notch in intensity to make up for potentially drinking too many beers full of empty calories or that extra barbecued piece of meat. I for one will be at the beach and then head over to my uncle's house for some barbecued meats, hot dogs, and potato salad. Ah, I can taste it now. I'm really looking forward to it actually.
Diet splurge for today only. It's often recommended by trainers and dietitians to reward yourself once a week by either giving yourself a cheat day of cheat meal. I've done this. Sometimes it works, sometimes it doesn't. It really depends on how the rest of my week is going. On occasion if I'm having a particularly awesome week, workout and nutrition wise, I tend to give myself a cheat meal. What usually ensues is a splurging of calories which often leads to me feeling like crap, physically and mentally, and not rewarding myself a cheat meal for months. As weird as it sounds, I like that route actually. It forces me into not splurging for long periods of time, which I will take any day over splurging weekly.
Advertisement
So do you splurge today? I wouldn't say splurge. Don't binge eat today. Just, if you feel like it, have that extra hot dog or beer. It's okay. The world isn't ending. It's just one day out of 365 that you decided to relax. You need to go into this knowing that this is only for today, not tomorrow or the day after. ONLY today. Tomorrow you are going to work out and go on with your life like if today didn't happen. Make sense? Good. So go eat some hot dogs (Nathan's are my favorite), burgers, chicken and throw back some beers. It's okay. Besides if your body is used to eating healthy and in control, it won't let you do too much damage today. It's going to self regulate, which is good. You're going to get full pretty quickly. Don't believe me? Try it. Let me know how it goes. Seriously, let me know how it goes.
Keep the eating in check. So you decided you wanted to keep it in control instead? Are you one of those beginners or weaker people that once they let go, they lose control? No worries, like I just said the body will self regulate if you have been eating healthy for the past few weeks. It won't let you stuff your face too much before you start feeling like crap physically. Still don't want to take the chance? That's cool. Just make sure you stay away from the barbecue pit, the food table, and anyone that is going to be throwing food in your face. Grab your piece of chicken, or meat, and enjoy it with some salad. Add some water to the mix and you will be just fine. Just keep drinking water and conversing with other people at the party. It's crucial that you don't skip a meal. If you do you are going to get hungry later, and that may lead to binging or bad choices in what you consume.
Anyway, I need to head out to the beach and enjoy the sun while I can. You be safe today and remember: today is today, tomorrow is tomorrow.
The last few weeks have not been as good for me nutrition-wise, but I will rant about that in a different post. Today I 'm just going with the flow and will probably be consuming more calories then I would like, but I'm gong to make up for it tomorrow and the rest of the year.
Live a little, it's Independence day for crying out loud!!
*Photo Courtesy of Mr Magoo ICU