5 Factor Diet Plan Review – Not Just for Celebrities
The 5 Factor Diet is an effective diet plan. It was created by Harley, a celebrity trainer who has worked with different celebrities such as Alicia Keys, Jessica Simpson, Kanye West, and Eva Mendes. Harley has brought his diet into an online program. His diet programs are highly beneficial to users who sign up because it is customized to the user which helps them lose weight more efficiently because we all are different.
Advertisement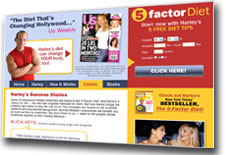 The weight loss plan is not difficult, 5 Factor Diet is a five-week plan that allows you to see results in just five weeks. Within your diet period, you will be having five meals a day that is customized when you join the site. This helps you feel full throughout the day since you will be eating healthy meals every few hours. Each meal consists of five ingredients. There are literally hundreds of different recipes that you can find on the site (as a member) that only have five ingredients that take five minutes to create. With the meal plans sorted out by Harley's 5 factor diet site, there are also workouts that are implemented into this diet. The 25 minute work outs have been planned and organized by Harley's training experiences. Based on results, shorter work outs are beneficial in terms of weight loss than spending several hours working out.

Since diets are hard to stay consistent in, there are cheat days that have also been implemented into the five week diet. For each week, there is one day where you can take a break from the diet. Does this diet sound ideal? The website will help you attain your weight loss goal with this diet. The site has daily meal planners for members, a personal recipe box, a food log to keep track of what you are eating, an eating out guide for when you need to do so within your five weeks, an activity calculator, an online journal, daily inspiration to help you keep going, cooking shortcuts to help you save time, a weight tracker to help you keep track during the week, an ideal weight calculator, a nice database with hundreds of recipes to chose from, a shopping list tool, your custom fitness plan and a message board where you can discuss your progress with other members.
To join and test the site today, click here: Join 5 Factor Diet.