A Healthy Social Media Site: HealthRanker.com

Having been health blogging for about 9 months now, I noticed that were was a huge void in the health news sector. Despite the multitude of social media news and voting sites available, there was not one dedicated to the health niche. I have become increasingly frustrated with the current "big dogs" in social media news sites, so I set upon making my own.
Enter HealthRanker.com. Health Ranker is a social media news and voting site that is dedicated to all things health. It silently launched a day ago and is already receiving positive feedback. The membership is increasing each day and so is the usage. You can sign up and submit health news in the various categories. You can also place our Rank it! button on your web site for others to Rank your health news.
Advertisement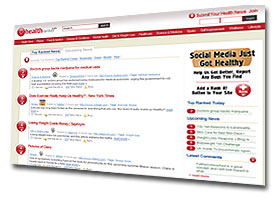 So if you are into health news, information and education, head on over and become a part of something fresh and new. Still in beta, there are some minor bugs but the site is fully functional. I would love for some more beta users so that we can tweak the system. Feedback and suggestions are always welcome.
It's rare when we actually have the chance to be a part of something like this in the early stages, but I am extending the invitation to you now. See ya there, feel free to add me as a friend.