Fiji Water – The New Player in the Bottled Water Craze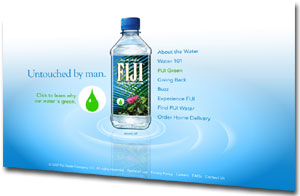 Everywhere I go I see Fiji bottled water. What's so great about it besides it being more expensive than other bottled water? I must admit that at first this was going to be a rant about how I can't stand bottled water companies, but after reading through the beautifully designed Fiji Water web site and doing some deeper research, I had to change my tune. Well, I think I did. I was out to crush Fiji Water, but now have a better understanding of it.
Water is water. Right? When I think of things like this, I always think back to prehistoric days. I try and compare my daily habits with what cavemen might have done. I like to believe that cavemen would have just drank water from a stream. Simple. If it's clear, it's drinkable. But Fiji does a good job at educating it's visitors. The site is full of information regarding the different water types of bottled water, health benefits of water, and why they think Fiji water is second to none.
Fiji says it uses water that has not touched open air. Ever! To understand this you first need to know what artesian water is. So what is artesian water? Simply put, it's rain water that is sealed deep beneath layers of the Earth's surface, hasn't been exposed to the environment, and can only be brought to the surface by man. According to their site, the only time Fiji artesian water comes in contact with the air we breathe is when a person first opens a bottle that they have purchased. Pretty hard to believe right? I'm a skeptic. But this non-human contact is what they pride themselves in. It's what they use as their main marketing point.
Advertisement
I haven't tasted Fiji water, but I know many who have. They swear by it. Some stores around here (Florida) charge way too much for it. I can only imagine what cities in New York and California charge. You can also buy it in bulk from the Fiji Water web site. I bet you could do the same on eBay, but cheaper. I plan on buying a single bottle of Fiji Water this weekend and drinking it for the first time on camera for my weekly video blog. We will see if the water is what it's hyped up to be. My reaction will say it all.
Fiji reminds me of the bottled water craze a few years back. I remember seeing Evian, Poland Spring and a slew of other bottled water companies emerging. All of the upscale folks would pay big bucks for a bottle of water, most of which has turned out to just be tap water re-bottled. Living in NYC, I have always been comfortable drinking water from the tap. NYC's water is purified by one of the best water purification systems in the state of New York. It wasn't until I moved to Florida that I had to start paying for drinking water. The tap water in Florida has no fluoride and contains a lot of chlorine. It tastes horrible. So we get water for our water dispenser from the local Sweet Bay Supermarket. My wife insists on buying bottled water for work. She isn't too picky on which we get, but will refuse to drink Nestle or Zephyrhills brand water.
At the end of the day, water is water and I drink tons of it.