I Fell Off But Got Back On Track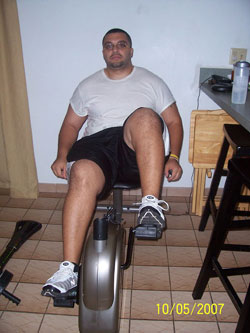 Last week I fell off the path for a couple of days, but I managed to get back on. I got a bit happy and cocky when I realized I had lost 20 lbs. So I decided to celebrate by eating some pasta, which isn't that bad. But then I didnt workout on Wednesday and had sub par workouts on Thursday and Friday. Add to that the fact that I ate Taco Bell Gorditas and some KFC Honey BBQ wings and you will see why I feel sorta crappy about it. I don't regret eating the food since I didn't really overeat, but I do regret not getting better work outs in. I had fallen into that slump I get every few weeks after I start working out again.
Then Saturday came around and I had a pretty decent session and started seeing the light again. I was getting back on track but wasn't quite there. That is until Sunday. Yesterday I had one of the best workouts I have had to date. I rode the recumbent bike for 40 minutes on a high resistance level, then I lifted weights working out my back, biceps, shoulders and some chest. To top it all off I hopped on the treadmill for a 10 minute run and cooled down with a 10 minute walk. Afterwards I felt amazing. I was back on track. I actually wanted to keep working out but realized that too much is not always good. So I showered, had my protein/creatine/amino acids/green tea shake and relaxed.
Advertisement
My wife then made some grilled chicken breasts with salad that we both devoured. I was feeling great: I worked out and ate a healthy meal. I couldn't ask for anything else. Amazingly, she had the audacity to bake a chocolate cake with chocolate frosting (one of my favorite). It was crunch time and I needed to make a judgment call. Do I indulge and negate the progress I just made or do I maintain and live to fight another day. I am happy to say that I was strong enough to resist. That right there made me feel better than the workout I had earlier. Each time as I passed the kitchen I would see the cake tempting me with its chocolaty frosting, but I would keep going.
I told myself that I couldn't let this happen again. I was tired of starting the weight loss process and then quitting after I start seeing results. It's like a switch always flips that tells me to revert back to my old ways of self sabotage. But not this time.
This time I persevered. I got back on track.