Is your Food Worth its Weight in Exercise?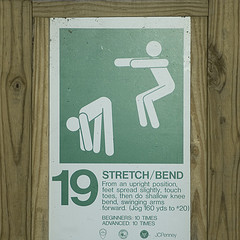 Photo Courtesy of Odalaigh
Editor's note: This is a guest post from Lisa Newton who can be found at Iowa Avenue and the Healthy Lifestyle Bloggers.
If you're trying to lose weight, exercise is the best way to create a negative calorie balance. Too many people have the misconception that exercising affords them the permission to eat more. This idea is flat out false. Where it came from I could only speculate.
By eating additional food because you exercised, the hard work you just did is lost, and instead of losing the calories just exercised away, you're left with an equal number of calories lost vs. calories gained–thus, no weight loss.
Is the food you eat worth it?
Another aspect of exercise and food is that many people complain about having to diet, diet, and diet some more because they are not losing any weight, or have hit a weight loss plateau.
As you lose weight, the amount of food you need to maintain your new weight lessens, so you need to marginally decrease your food intake.
Advertisement
Or if you aren't physically active, your weight loss plateau could be the direct result of you eating the same amount of food, but not exercising.
You won't be able to lose weight unless you either eat less or begin an exercise routine.
Don't believe all of the hype. Just as you would be careful and prudent when making a major purchase, your health is equally as important.
Most advertisements, posts, commercials, or just plain bad advice in the public domain, that you can lose weight, continue to lose weight, or maintain a weight loss without exercise is based on deception, and/or probably some type of over the counter pill that's not good for you or your health.
90% of the people included in the National Weight Control Registry—which tracks over 5,000 individuals who have lost significant amounts of weight and kept it off for long periods of time–exercised for, on average, an hour per day.
To avoid making the crucial mistake of thinking you can eat more, or lose weight without exercise, consider these facts:

So the next time you want to gorge or splurge on food just because you exercised, ask yourself:
Is your Food Worth its Weight in Exercise?
After all, it's about a healthy lifestyle!