Mike Mentzer's Heavy Duty Triceps Routine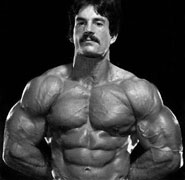 This is the first in a series of installments that will highlight the greats and the training routines that they employed.
Mike Mentzer's owned a pair of seriously full blown triceps. They were "ham-like" from deltoid to elbow. His triceps we not missing an ounce of development. His triceps sweep was down right scary-good. So did Mr. Mentzer use a myriad of movements and exercises to attain his triceps size? The answer is no for Mr. Heavy Duty. Mentzer didn't do more than two exercises during a triceps workout. Mentzer also kept his set totals to four or six. The Mentzer Heavy Duty technique was what created the brutality needed to develop serious muscle. He pushed every set to failure, absolute failure.
Advertisement
Forced reps performed with a training partner were a crucial part of Mentzer's workload. Mentzer's training partner would also assist Mentzer with lifting the weight into position to perform negative only reps. This created a three stage set. A "Trio of Pain" if you will: first a positive failure, followed by forced reps, and finally capped off by negative failure.
Let's take a look at a Mentzer staple:
Superset
Nautilus triceps extensions or Lat machine pushdowns (lat machine's more prevalent nowadays):
3 sets of 8 reps using the Trio of Pain
Weighted Dips:
3 sets of 8 reps using the Trio of Pain