Nutrisystem Weight Loss Program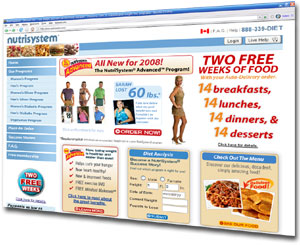 Many of you have seen Nutrisystem commercials. Weight loss while eating has become popular. On their web site you can read about dozens of success stories of people losing 20 to 100+ pounds!
Nutrisystem Weight Loss Program
Nutrisystem is a weight loss diet program where you eat to lose weight! Sounds too good to be true, but it works. To get you started sign-up for their auto-delivery program for two months and get an extra week of food for both months. Two extra weeks of food for free. Everything is delivered to your door.
What's a huge plus for these programs is that Nutrisystem offers both a Men's program and a Women's program. For the men you get "man food" like burgers, pizza, pasta, and chips. You get to chose your own meals. For women they also offer "crave-busting and filling entrees." The Nutrisystem Program includes low Glycemic index carbs and the right amount of protein and fiber. It gives you the nutrients you need and will help you lose weight without feeling hungry.

Check The Menu
For those curious of your options with Nutrisystem, they provide a complete menu of what they offer.
The menu starts with breakfast, lunch, dinner, then a dessert. The meals are all portioned for you, so there is no weighing, counting, or measuring what you are eating. Just grab the packaged meal and add in some fresh fruit or salad and you're ready to eat!
Diabetics and Vegetarians
Nutrisystem caters to everyone, even people with different needs.
One of the best things you can do for your diabetes is control your weight. This is for both men and women. The Diabetic Program is a complete diabetic meal plan for women with Type 2 diabetes that lets you easily control your calorie and carbohydrate intake to promote weight loss.
The Vegetarian Program gives you a simple approach to losing weight while maintaining a vegetarian lifestyle. This is the only prepackaged vegetarian diet program available right now.
Try Nutrisystem and get two weeks of food for free.
Where To Get It: Nutrisystem Diet Weight Loss Program