Rising Gas Prices Can Help Your Weight Loss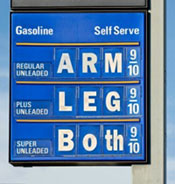 Photo Courtesy of kpgingaz
With the ever increasing gas prices (doesn't seem like it's going down any time soon) I figured I had better take advantage of it some how. One way that I thought of was to not use my car as much. That's right. I have not only saved money, but gotten healthier in the process. I don't drive to every single destination unless absolutely necessary.
"But that's impossible Israel," you say. WRONG! I know people that live 3 or 4 miles from a place they need to get and get there without the use of a car. I live in Florida and it's pretty much important that you have a car here. It's bad actually. Originating from New York City, I am used to walking and biking everywhere. And I mean EVERYWHERE. This one time I had purchased a mountain bike and rode it all the way down to where I work. The actual distance usually took an hour on the MTA subway. Checking Google Maps reveals that the distance I rode was 12 miles each way! Not bad at all. I recall being extremely sweaty and my butt hurting from the long ride. That same approach can be used in places like Tampa or The Boondocks, Alabama (this is a fictitious location).
Advertisement
The point I'm trying to make is that you don't necessarily have to be a slave to the rising gas prices. A bike at Wal-Mart, Target, or K-Mart can go for as low as $199. That's about what some people spend on gas per month, depending on where they live. The price per gallon in my part of Tampa is at $3.74 at the time of this writing. If you can't ride all the way to work maybe you can ride to the parking station, park the bike and ride the train or bus to work for the remainder of the distance. That's one example. Or how about jogging to work and showering there? If you put you mind to it you can come up with some way to make a positive (health, fitness) out of a negative (high gas prices). Another example of something I did in New York was workout during my lunch break. Luckily for me there was a gym two blocks away. I know that' not an example of taking advantage of the gas prices, but I wanted to illustrate the ability to think outside the box.
What about when you need to go to Blockbuster Video, the bank, or run some errand? Have you ever considered just walking there? For dinner the other night we walked to the restaurant. It was a 15 minute walk that not only allowed for a quick, healthy workout but brought us closer together (we spoke the whole way there). My 3 year old daughter was also along for the walk and loved it. It reminded me of all the walks I used to take in NY. Back in NY there are tons of hidden landmarks scattered throughout the five boroughs that people aren't aware of. Over the years walking had helped me discover them. Walking to dinner that night opened my eyes up the beauty of my community and it's surroundings. So walking not only was healthy for my body, it was healthy for my mind.
Did you know that walking, combined with healthy eating, can boost your metabolism which would help you lose weight? All it would take is 30 minutes a day 5 or 6 times a week. That can equal to quite a few pounds in the span of a year.
What are some ways you can think of making high gas prices benefit your health and weight loss?