Seeing is Believing with WeightView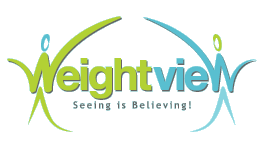 WeightView is a digital and personalized motivational tool that uses the power of visualization to help to achieve weight loss success! The site basically works like this: You submit your before photo, they send you back an after photo. You then use that as your motivation. Sounds pretty simple to me.
My first impression of WeightView is that it is a genuinely useful program. Looking at their results page shows many individuals that have submitted their before photos for editing. In one video interview a lady mentions how it actually helped her stay motivated, leading to weight loss. WeightView clearly states that "Seeing is Believing." This is something that I strongly believe in. It's the reason I have my old in-shape photos on my fridge and why I have my in-shape before pictures on my about page. I've actually considered PhotoShop-ing some photos.
They are clearly proud of the number of people that use their service, which is an impressive 60,000 and growing! That's a lot of photo editing. I took the time to submit an old picture of my heavier days and am pleased to say that it only took them about 12 hours to turn around a digitally altered after photo. Here it is:
It's supposed to be me 50 lbs lighter. It's not ideally how I would want to look, but it's a damn good start. To be honest, it's uncannily close to how my real after 50 lb loss picture looks. The See Results section shows all of the folks that have tried the free service. Some are more stunning then others. I would like to see a member page where a member can add their REAL after photo. That would be cool.
Advertisement
Speaking of which, the site needs a more social aspect to it. With all of the press they have been getting, it would be a much stickier site if they had some form of user interaction on the site. As it stands right now a user submits their photo then leaves the site only to return when they get an email saying their photo is ready. Then they leave forever after saving the photo to their computer or printing it. There is no real reason to stay, unless you are curious how the site is evolving or want to submit another before photo.
The viral nature of the site is slightly touched upon with the tell-a-friend feature, but they need way more user/community interaction. Possibly adding a forum or some other social network type of functionality would help take the site to the next level. This would also help cover some of the costs of the site and the free nature of it. I'm not saying to charge for the service, free is good. What I am saying is that with more traffic they can turn themselves into a weight loss social network of sorts and make money from their traffic. Aside from some banners, they are relying on the online shop where you can find diets and other weight loss solutions and aesthetic products. You can find them all at the WeightView Mall.
Ultimately a website like this can only do so much, it is up to YOU to take action to lose weight. WeightView is a great motivator and could be all you need to get started losing weight and getting in shape. It's a useful website presenting an innovative idea: the power of self-motivation through your own modified images, picturing yourself with considerably less weight.
Fake it till you make it, right? What do you think of the site? Have you heard of it or uploaded your own before photo?