The Blogger Proof Workout, Vol. 1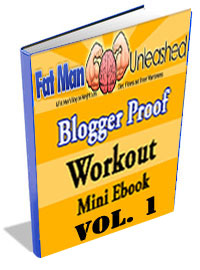 A Simple Workout for Fat Ass Bloggers
You Know You Need to Read This!
There aren't many of us bloggers that take good care of ourselves. For the select few who do, congrats. This isn't only for bloggers, but for folks that spend way too much time in front of a computer. That's right. YOU! If you are anything like me, then you spend hours upon hours in front of the computer. The internet is like our home away from home or while at home for that matter. We are so driven to blog that we may sometimes forget to sprinkle in physical activity. That's where this ebook comes in. The workouts in the ebook are simple, yet effective. They take advantage of your surroundings and can be performed easily. They shouldn't take more than a few minutes at a time.
There's no specific order in which you should perform them. These workouts are meant to be performed at any time, in any order. I made sure to make it so that you could pick and choose workouts at your leisure. This is by no means a comprehensive training program, but it serves as a stepping stone for you to add some light physical activity to your daily routine. Remember to consult a physician before starting any exercise routine. Keep in mind that it is important for you to eat a healthy, balanced diet as well.
Have you noticed that your butt is becoming a numb membrane of lipid filled tissue that fits ever so nicely into that comfy chair you spend countless hours in? If so you may be in need of my Blogger Proof Workout. Bloggers spend numerous hours creating content to feed the ever hungry internet and information world. Unfortunately, that process entails tons of sitting and limited physical movement.
So bloggers and couch potatoes alike unite to take 15 minutes a day to squeeze in a self-improvement break. Follow this quick and very manageable routine and see your blogging productivity increase. Yes, I did say increase. Endorphins are known productivity boosters. Endorphins spur us on with positive chemistry and a natural high that blesses us with clean energy. I call crash free energy, clean energy, because it does not need the help of Red Bull drinks.
Okay Enough, How Do I Get It? Here's What You'll Get by Subscribing
Free Ebook: You'll get FREE access to my 7 page (and growing) Ebook on how to add physical activity to your blogging lifestyle.
Free Updates: Every time I update my Ebook, you'll automatically get access to the new version.
Free Advice: If you have questions about anything, you can post comments for free. I personally answer every question!
Ready to Get Started? Subscribe to FatManUnleashed.com in 5 Simple Steps
I put time & effort making quality content. I hate spam more than you, that's why you'll have to confirm your email address before your subscription is activated.
Here's how you can subscribe:
1. Click here to subscribe to FatManUnleashed.com. A new window opens.
2. Enter your valid email address & the text you see in the box, and click "Complete Subscription Request."
3. IMPORTANT. Go to your mailbox & click the link inside the verification email sent to your email address. You must confirm the verification email to activate your subscription & get access to the FREE Ebook.
4. If you don't receive the verification email, check your spam box/junk mail folder. If you can't find it there, subscribe again using a valid email address. If that doesn't work, subscribe with a different email address.
5. Once you have clicked the link inside the verification email sent to your mailbox, you are subscribed. You'll now receive free useful and informative articles by email & access to The Blogger Proof Workout FREE Ebook.
How to Download The Blogger Proof Workout 100% FREE Ebook
Once you've subscribed, you'll get access to my Ebook. You'll find the download link at the bottom of each article you'll receive by email. It will look similar to this:


Click the link
"Download The Blogger Proof Workout, Vol. 1 Ebook"
at the bottom of the article you'll be receiving via email. Once downloaded, view the file using Adobe Acrobat Reader (free software). If you don't see the download link in the article you received by email:
Check your browser/email settings: activate links & pictures
Check your security settings: antivirus, firewall, etc. Any software that can block access to the link in the email
Who's Talking About The Blogger Proof Workout?
"It's a little unconventional, but the principles are good and encourage bloggers to think about ways that they can add a little movement and exercise into their day – without leaving the room that they blog." Darren Rowse, ProBlogger.net
"Israel aka Fat Man Unleashed has released a short workout routine for bloggers." Jeremy Schoemaker, ShoeMoney.com
"My jaw dropped…not only be a health and fitness nut, but also a mind reader too." Garry Conn, GarryConn.com
"The great thing about his ebook is that you can do whatever you want on it. There isn't any specific time or order. The idea is just to set aside just a few minutes a day, whatever you can spare." Matthew Henrickson, BlogAboutYourBlog.com
"Unconventional exercises that will certainly get you back into shape. The eBook is for folks that work too much in front of a computer or for couch potatoes…he'll also help you be more productive." Blaine Moore, RunToWin.com
"A funny approach and interesting ideas for getting exercise in your office." Shawn Collins, AffiliateTip.com
"It's an entertaining and funny ebook, look forward to the second volume.." Abdylas "Ades" Tynyshov, AdesBlog.com
"He knows what he's talking about since he's lost over 40lbs himself so far!" Caroline Middlebrook, Caroline-Middlebrook.com
"Free eBook that seems to be of far to high a quality to just give away." Matt Jones, BloggingFingers.com
"Have a gander if you feel your blogging muscles need some flexing." Nick Sullivan, InternetBabel.com
"Solves a common problem (blogger butt) with a unique twist." Caroline Melberg, IdeasForBusiness.info
"Great advice, including a special ass-kicking workout for bloggers who have trouble leaving their laptops long enough to get fit." Crabby McSlacker, CrankyFitness.com
Mentioned in the Weekly Links for January 12th by Steven, VandelayDesign.com
And thousands more…