Fat People Cause Global Warming: Fat Isn't Very Green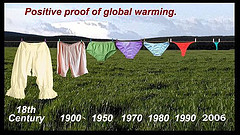 Photo Courtesy of starsky1231
Lately, we have noticed an increasing push for "going green." We have seen changes in everything from transportation to food preparation to the internet. This got me thinking about how I could make my life greener. My immediate realization was that I was a walking global warming vessel. I'm fat. Being fat can't be very green. Can it? We need to reduce our emissions of heat-trapping gases and learn how to use energy more efficiently.
Think about it. I'm overweight and require an above average usage of certain environmentally non-friendly things. Like what, you ask? Well, how about showering…? Being fat makes me take longer in the shower, using up more water than I should be using. So I waste water even though I make a conscious effort to "speed up" my showers. Another waste is toilet usage. I take, um, pretty big dumps and need more than one flush. I also use a lot of wipes to clean up. Don't even get me started on my frequent urination due to all the water and green tea I consume. That equals quite a large amount of flushing per day.
Advertisement
Another way that being fat, or unhealthy, isn't green is all the crap that gets consumed. I try to be as healthy as possible, but I do have my weaknesses. There are folks that eat out day after day after day. What do you think this does to the environment? That extra bag that was used to pack those 3 double cheeseburgers doesn't just evaporate into thin air ya know. And the process of creating those burger wrappers doesn't help either, factories and plants are needed for the creation of all of this.
How else can being fat not be very green? Clothes! Have you seen the amount of fabric needed to create some of the clothes that overweight people wear? I know you have. It's all over television with the "I lost X amount of pounds" commercials. Think of what it takes to make that 5XL t-shirt. Think. What about all the washing that is needed for those large clothes? The water, the detergent, the softener, the dryer time…talk about endless loads of clothes.
If you're fat you're probably a notorious waster of electricity and gas too. It can be either watching too much television, having the air conditioning on a lot, or driving to that nearest fast food joint to pick up a "snack." The heavier you are the more gas your car needs to carry you around. Fat = heavy = more gas needed. It's simple math.
I'm not saying that being fat is causing global warming (need some research and scientific proof for this), but I can assure you that being fat isn't very environmentally friendly.
Update: Looks like someone else feels the same way about global warming and fat people.