Chinese Buffets and Fat Men Don't Mix
Photo Courtesy of
MidtownLunch
Buffets were created by the devil! Not literally, but it sure does feel like it sometimes. I have a history with buffets. In high school I would go to the same buffet every week. It was a ritual that some of us "bigger" guys on the football team partook in. After high school I would still go about 2 to 3 times a month to a Chinese buffet with friends. It was something we would do when we were bored. Nothing to do on a Saturday afternoon, head out to the China Wok buffet. All you can eat for about $8.
Now in my adult years I haven't been to as many buffets as I am accustomed to, but I have still made it to some. The craziest ones are on cruise ships: Mounds and mounds of food, all you can eat, all day! Bad mix for a fat guy. Especially if you are still mentally too weak to fight it off. Now a buffet every now and then is okay, but don't make it a habit. Some, if not all of the foods, are not the healthiest. I know there are fruits, veggies, and healthy meats, but more often than not the food at buffets isn't prepared with the most care.
So what am I getting at you ask? I met up with a couple of friends recently. I really wanted to see them since it had been a while. Unfortunately, they wanted to meet up at the local Chinese buffet. I immediately knew that it was a disaster waiting to happen. Israel at a buffet? BAD IDEA. I usually go for 4 rounds. That's a minimum. And doesn't include the dessert plate. Reluctantly I headed out to meet them.
Advertisement
Side note: Have you noticed that there are so many fat, overweight, usually morbidly obese people eating at buffets and fast food restaurants? I know I have seen it and it's alarming. When will these folks realize enough is enough?
I must say that I did very well. I only had 3 plates of food. Now hear me out, it wasn't really that bad. The first plate had some greasy chicken, some rice, and an egg roll. The second was just 4 pieces of sushi. The last was 2 servings of chocolate covered marshmallows with graham crackers, of which I am proud to say I only ate one. That isn't that bad is it?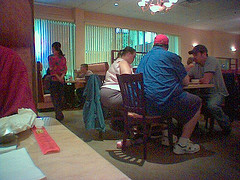 Photo Courtesy of
Jaymosch
I knew I would give in to the temptation. The trick was to accept it and move on. How do you combat the weaknesses associated with buffets? Don't put yourself in a position to fail. Don't act like you wont cave in. Accept it. Eat until you are full, then stop. Also, I learned that getting up several times is sort of embarrassing, especially if you're a fat person. So I made sure to only get up a few times. It's a good idea to select something healthy to go along with whatever else you choose to eat. That way there's somewhat of a "balance." I would suggest to not let your friends influence you. If they know that you are on a mission to get in shape, lose weight, and lose fat they would probably be less likely to want to go to an all you can eat buffet.
But the best advice I can give from my personal experience regarding Chinese buffets is…
DON'T EAT AT CHINESE BUFFETS!